Talia Govender is Connecting the Dots Between Real Humans, Great Products and an Africa For All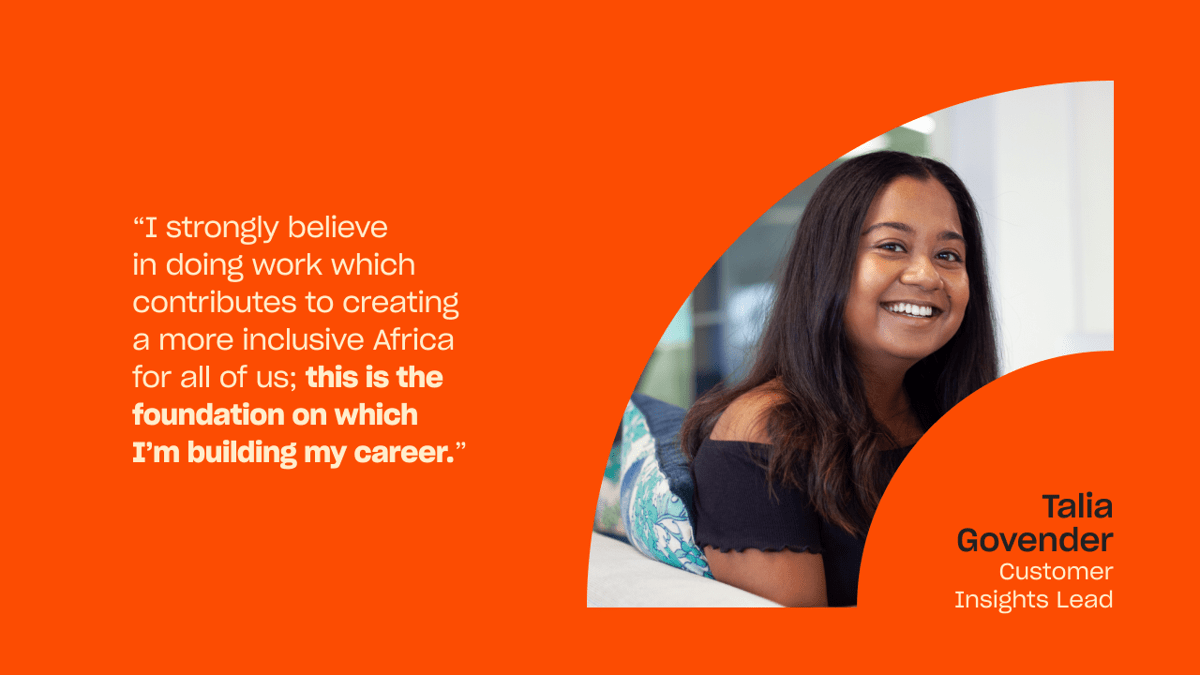 By Talia, Govender, Customer Insights Lead
At the core of it, customer research is about engaging with real humans. My work is about connecting the dots between what someone says, what they mean, and how this could translate into creating or improving products and services.
Yoco's mission is what drew me to the company.
I wanted to be part of an innovative team driven by the audacious goal of breaking down the barriers faced by small business owners.
Building more inclusive societies is something I really resonate with.
Then, during the interview process, the Yoco culture completely won me over. Every person I met was just incredible - so authentic, kind, and genuinely passionate about being on the Yoco journey
My career at Yoco has been driven by my love for human-centred research.
I joined Yoco as a Digital Onboarding Specialist in 2018. My initial role was to understand the experience of small business owners as they joined and began to use Yoco.
In 2019, we started the Customer Insight team – a dedicated research team responsible for bringing new knowledge of small business owners into Yoco. As the objective of the team was aligned to my skill set and interests, I moved into the team as a Customer Insight Specialist.
A few months later I was promoted to Senior Specialist and since the end of 2020 I've been the Customer Insights Lead.
As a researcher, you're essentially a stranger – walking curiously into someone's life and space, with an objective in mind to learn.
As a member of the Customer Insight team, a significant part of my role is to engage with small business owners.
Pre-Covid, this was through research fieldwork: actually going and sitting in shops and restaurants and hair salons all over the country; having a cup of coffee with a business owner and just hearing their story.
As much as my objective is to gather insights that can be used to build better products and services, every interaction with a small business owner teaches me something on a personal level as well.
My team, and Yoco as a whole, have given me space to explore my craft, and support me as I work towards mastery.
We have two values at Yoco which, when combined, create supercharged growth: 'Make space to explore' and 'Master your craft'. This is exactly how Yoco has enabled me to grow.
I've recently started studying towards a Masters in Inclusive Innovation at UCT Graduate School of Business and the decision to do so was shaped largely by the work I do at Yoco.
Curiosity coupled with empathy is a research superpower. It's also a catalyst for personal and professional growth.
Through meeting people from all corners of the country and hearing their stories, I've grown as a person. My biases are challenged and brought to light, my perception of the world shifts and I never leave any conversation the same as I went in.
This kind of daily personal growth is what I love about my work - our merchants are truly incredible and inspiring humans!
The philosophy that guides my work is "Leave things better than you found them".
I strongly believe in doing work which contributes to creating a more inclusive Africa for all of us; this is the foundation on which I'm building my career.
I'm not a massive 'end goal' kind of person, I like to live intentionally in the present and do the best I can with where I am.
Today this takes two forms, one through my role at Yoco and the other as a student, as I work towards a Masters in Inclusive Innovation at the UCT Graduate School of Business.
There's no 'corporate ladder' at Yoco, you carve out your own path.
This can be daunting because you have to be intentional about who you want to be and where you want to go in your career, but it can also be incredibly empowering and rewarding when you lean into it.
—
Ambitious and customer-obsessed? We're always hiring people who want to grow a career with purpose, Check out our open Product Roles here.