Yemurayi Chinyande Encourages Women to Join the Future of Tech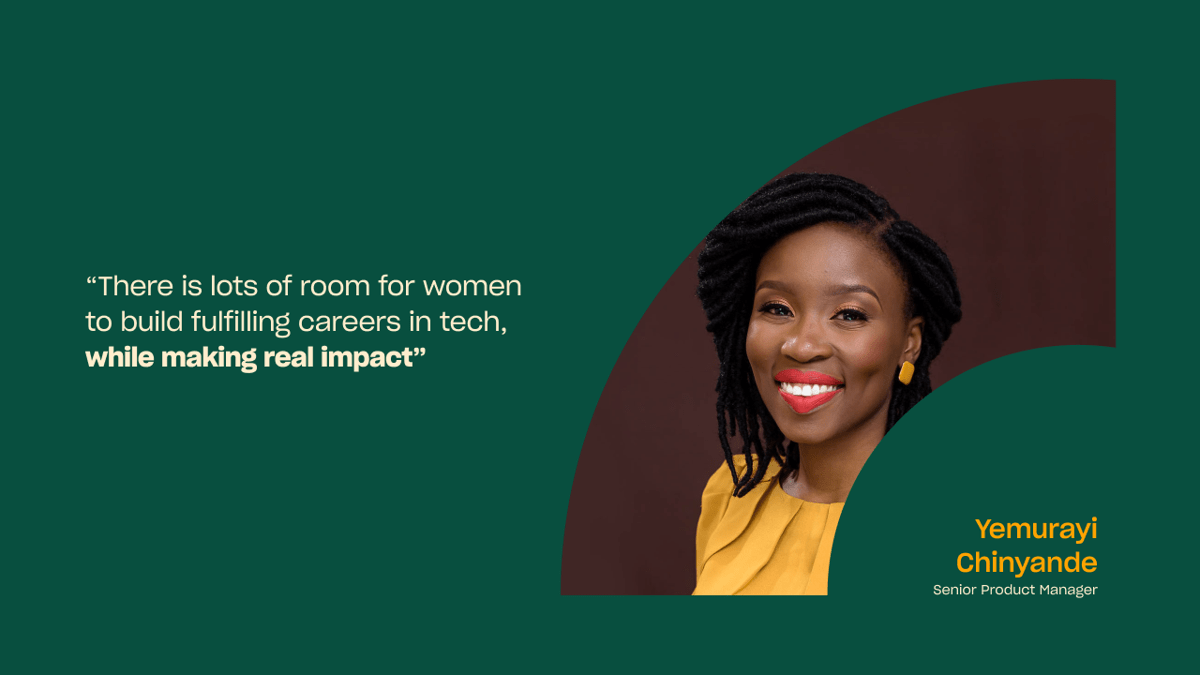 Yemurayi Chinyande, a Senior Product Manager at Yoco, talks to us about her recent participation at African Fintech Foundy's (AFF) 2nd Women In Tech conference - where she shared the breadth of possibilities for women in the Product Management field.
First things first, what do you do at Yoco?
Broadly speaking, my contribution to Yoco's vision of enabling SMEs to thrive, is building products that enable our merchants to accept payments online.
This involves, defining the product strategy for the online payment products I oversee, creating the clarity to get there, and working through a multidisciplinary team to ship impactful solutions.
You were recently a panelist at AFF's 2nd Women In Tech Fireside Chat. What's the low-down?
The AFF is an Access Bank initiative that aims to nurture and accelerate the growth of Fintech startups in Africa.
AFF's Women in Tech Fireside Chats seeks to create an ecosystem to support women interested in entering the tech industry. This edition focused on Product Design and Commercialisation, where we chatted about the ins and outs of building and growing products, what careers in Product look like, and how to navigate that space as a woman - and win.
What makes the tech field a viable career choice for women?
Tech is at the perfect intersection of a good challenge and fun - and importantly, provides opportunities to deliver solutions that create tremendous impact on people's lives.
Tech is a fast-growing industry, which means that tech talent is in high demand and also quite lucrative in terms of remuneration.
It's estimated that come 2030, there will be a global shortage of more than 85 million tech workers, representing $8.5 trillion in lost annual revenue according to management consulting firm Korn Ferry. So there is a massive growth opportunity. However, on top of this layer is the fact that to date, only 26% of tech-related jobs are held by women (source Built In) - despite the fact that gender diversity is known to improve decision making and profitability.
As you mentioned, tech is notorious for its lack of gender diversity. Why do you think this is?
In my opinion, there's a vicious cycle going on. Fewer women in tech results in less representation of female role models in tech, which results in stereotypes about gender in tech, which results in fewer girls being inspired to opt for degrees or courses in tech, ultimately resulting in fewer women in tech. However, it goes beyond that.
The lack of women in tech is also due to work environments that may not be conducive for women, as well as entrenched biases and misconceptions about the effort required and the career options available.
There's a common misconception that if you want to work in tech, you need to be able to code. What's your take on this?
Unless you're interested in software development or engineering, there is SO much more to the tech industry. I think people buy-in to this misconception because at the heart of tech are systems, applications, software, and devices that solve problems - which obviously require software developers and engineers.
That said, there's also a huge need for leadership, strategy, commercialisation, marketing, accounting, law, people teams - the list is almost endless. Consider some of the roles played by prominent women in tech, like Bozoma Saint John (Netflix CMO) or Sheryl Sandberg (Meta (Facebook) COO)) - their backgrounds are not directly linked to computer science or writing code.
Within tech, there are countless cool roles that don't require coding, like UX Designers, Customer Experience Specialists, Product Managers, Project Managers, Support Engineers, Tech Writers, and Data analysts.
We should start a campaign #I_AM_IN_TECH_AND_I_DO_NOT_WRITE_CODE. If you are in tech and don't write code, help us dispel the myth!
What's your advice for women who want to pursue a career in Product Management? Where should they begin?
I have a few suggestions, based on my own career trajectory and learnings:
Get a Product Management Certification. There are plenty of places to do this -- either online or IRL. Product School is a good one, as is Udemy, and several universities also offer online certifications, including the University of Cape Town.
Ask for shadowing at work. Ask to be seconded to the Product Department at your current company. This way, you learn by experiencing it practically and position yourself for a promotion or transition.
Connect with other Product Managers on LinkedIn; look for a mentor - a lot of us are always happy and ready to help.
Read books about Product Management - I highly recommend Marty Cagan's work.
What are the skills that someone in Product Management (PM) needs to thrive?
There are several, but as Simon Sinek so rightly said, "You don't hire for skills, you hire for attitude. You can always teach skills". I wouldn't worry about waiting until you are able to tick the box on all the required skills before you start job hunting. That said, the following are skills that a PM will come in handy on a day to day basis:
Research and analysis
Problem solving
Strategic Thinking
Basic business skills
Basic Product Management Knowledge (Ways of Working, Frameworks etc)
Prioritisation
Leadership
Beyond the skills you mentioned above, what are the soft skills or personality traits that can make a career in tech fitting?
Excelling in PM definitely involves equal parts technical skills and softer skills. Product Management may be for you if you're adept at the following:
Communication - both written and verbal. Product Management entails working with many different people, so it's important that you're able to clarify your end goal and bring others along with you.
Empathy - the ability to put yourself in the shoes of the customers, so you understand their problems and their view of life. You also need to be able to put yourself in the shoes of your team mates. As a PM, you work through other people and being empathetic helps you build the social currency you need to get the job done.
Curiosity - questioning how things work, why things are the way they are. Just as important is the motivation to keep up with trends, what's new in tech, who's doing what in the industry, etc., is crucial to your role.
Managing your brand - as a PM, your ability to influence decisions and other people's work is critical. Maintaining a brand identity that people can trust and rely on, will be critical.
Yes! Excelling in Product Management - or any field, relies heavily on the people skills qualities you just mentioned. After all, building products is ultimately about the person who ends up using whatever it is you're building.
You can lead your dream career in product, if you put your mind to it. Many women like me are doing it and are thriving.
If you need practical guidance and help in breaking into and or thriving in product, I am more than happy to help - visit techcareermasterclass.com and register your interest.
----
If you're considering taking the leap and embracing tech, (or if you're already in tech and looking for your next move) we may have the role for you. Head on over to our Careers page to see the roles we're currently hiring for.